Nowadays, companies encounter multiple technological challenges, which often require the search for additional support to complement their in-house teams. Whether it's to enhance services and products, ensure top-notch quality or meet the growing online demands, nearshoring emerges as an excellent strategy to expedite and achieve outstanding results while providing valuable assistance to existing teams, all at a reasonable cost.
Our following client on Meet Our Projects needed to develop a Risk Sistemicity Questionnaire (RSQ) tool to support annual processes that procure international freight management services. Aside from providing a custom tool, Cleverti's team assigned to the project in November 2022 also helped develop an MVP.
Understanding the client's requirements was fundamental to develop the product's first release, alongside the internal team.
The Challenge
Helping the in-house team with their technological challenges in developing an MVP was the main objective for this IT Consulting Company based in Sweden. Securing and recruiting the ideal team was crucial to streamline the hiring process and effectively manage the current workload, whilst delivering a functional expertise for the product's first release.
Our Solution
Through a team of two development resources that supported the client using OutSystems, Cleverti leveraged the low-code platform to develop custom software for their in-house system. The collaboration began by sharing use cases through Jira, enabling Cleverti to assign software developers who seamlessly integrated with the client's internal development team.
The Final Outcome
With this close and thriving work relationship, the minimum viable product (MVP) for the intended product was successfully created, enabling an exceptional outcome through Cleverti's team concrete and assertive ideas and suggestions.
Working Nearshore, effective communication and maintaining a close approach throughout every stage of the project are crucial for delivering exceptional outcomes. Cleverti's expertise fosters genuine collaboration that goes beyond simply following instructions. The exchange of ideas, flexibility, and adapting to the client's work style guaranteed a positive outcome, proven by the Clutch review of the project.
The B2B platform that publishes in-depth client reviews and reliable data-driven content shows an excellent review, with an overall score of 5 out of 5 with high ratings on every analysed metric – scheduling on time/deadlines (5.0), cost value/within estimates (4.5), quality service & deliverables (5.0), and NPS willing to refer (5.0).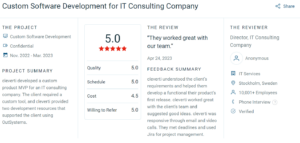 Check this review in detail and others at Clutch – a B2B website invested in publishing in-depth client reviews and reliable data-driven content.