In a world increasingly interconnected by technology, global events play a crucial role in shaping the future of IT. Luxembourg Internet Days (LID) is one of them. Celebrating its 10th edition, and this year with a special spotlight on Portugal as the Guest Country, this tech event is the most important ICT, IT & OT event in Luxembourg.
As one of the 20 privileged Portuguese selected companies to attend, Cleverti's presence reinforces the continuous work done in the tech area, and in the Luxembourg IT market.
Why LID and Why Luxembourg
LID, taking place on November 7th and 8th, is bringing together experts, innovators and industry leaders from around the world to discuss the latest trends in information technology, and setting the stage for two days of insightful panel discussions and conferences.
Luxembourg, known for its role as a global financial hub and a tech-savvy nation, offers a strategic market for Cleverti. Additionally, with its well-developed infrastructure, the country provides an ideal platform for collaboration with partners and clients on both local and international scales.
Cleverti's presence underscores the focus on the Luxembourg market as a key area of interest. It is a clear demonstration of the commitment to building strong partnerships, sharing industry insights and fostering connections in the heart of Europe. In this way, Cleverti is able to connect with a vibrant ecosystem of innovative businesses, providing opportunities for growth and collaboration.
Thus, this reflects the company's vision for a digital future that is secure, innovative and interconnected. Engaging with industry thought leaders, sharing expertise and exploring new avenues for collaboration, which allows Cleverti to continue to evolve, search for strategic technology collaborators and allowing the delivery of end-to-end solutions, from tailored software development to comprehensive quality assurance.
In Luxembourg? Come meet us!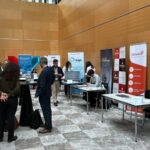 📍 Location: LU Chamber of Commerce
🗓️ Tuesday, November 7th and Wednesday, November 8th