Not all Cleverti's Projects are made with and for large corporations and business companies. Sometimes, clients of smaller dimensions need the most help in achieving their dream projects.
Our next featured client from San Francisco in Meet our Projects needed assistance to develop a software app that could internally support team projects. Since the client didn't have the skilled talent in-house, Cleverti took the detailed blueprint of the app and made it a reality.
The adaptation showed to the requirements made was smooth and straight to the intended point, and soon Cleverti was coding and building software development, with the assigned team taking the idea from scratch and making it possible, thanks to the demonstrated expertise.
The Challenge
The founder's idea for a collaborative planning app was still in a PowerPoint prototype, and through a partner's referral, Cleverti was asked to turn the app into a real deal. Assigning the right team with the right expertise was essential so that the software app idea that wanted to coach digital projects for team members and leaders could come to life, assisting in all business needs and facilitating the work being made in every project.
Our Solution
Since our client had no technical expertise to deliver the final result, Cleverti's team of two engineers developed a mobile and web app from scratch.
We focused our efforts on both web and mobile app development for a training consulting company, using Docker to construct a Node environment for a collaborative planning solution. We based their work on provided concepts and sketches.
Cleverti provided a full-functioning solution, starting with only loose concepts. Guidance and a direct collaboration boasted the desired features and functionalities, to yield an end product.
The Final Outcome
Once again, and specially in working Nearshore, good communication and assuring a close approach in every stage of the project is one of the most important aspects to deliver an exceptional outcome to the project. Cleverti's know-how enabled true collaboration, where it went beyond following the indications made. Ideas, flexibility and adaptation with the client's work style ensured a positive outcome.
Also, taking the time to find the right people for the project allowed our client to choose the perfect team for their business needs, which not only made the project a successful one, made their Clutch review an exceptional one.
The B2B platform that publishes in-depth client reviews and reliable data-driven content shows an excellent review, with an overall score of 5 out of 5 with high ratings on every analysed metric – scheduling on time/deadlines (5.0), cost value/within estimates (5.0), quality service & deliverables (5.0), and NPS willing to refer (5.0).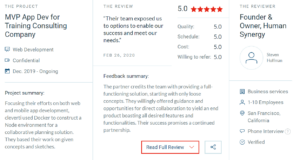 The excellent work made also opened doors for a future project collaboration, as expressed in the client's review.

Check this review in detail and others at Clutch – a B2B website invested in publishing in-depth client reviews and reliable data-driven content.